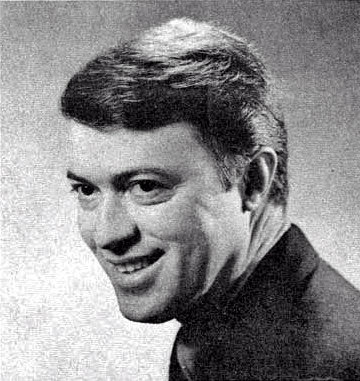 Scott Muni - "The Professor"

Afternoons 2 pm - 6 pm

Muni then spent almost 50 years at stations in New York City. He became a Top 40 broadcaster at WMCA in the late 1950s, just before the start of their "Good Guys" era, and did a number of record hops in the New York area. In 1960, he moved to rival Top 40 station WABC. There he did an early evening show called "Scotland's Yard" and was the first WABC DJ to capture the attention of the teenage audience the station would become famous for. He also participated in the competition to cover The Beatles on their first visits to the United States, and thus began a long association with them.

In 1965, Muni left WABC and ran the Rolling Stone Night Club while doing occasional fill-in work for WMCA. Muni had explored some opportunities beyond radio: he had recently co-hosted a local weekly television show on WABC-TV with Bruce "Cousin Brucie" Morrow, and he would go on to record the spoken single "Letter to an Unborn Child", about a soldier with a premonition, which was released in 1967 to little acclaim. So a return to radio was in order, and in 1966, Muni joined WOR-FM, one of the earliest pioneers of freeform-based progressive rock radio. The notion did not last at that station, but in 1967 Muni moved to legendary rock station WNEW-FM, where the format really took hold. Muni stayed there for three decades as the afternoon DJ and sometimes program director. Muni was described by fellow WNEW-FM DJ Dennis Elsas as "the heart and soul of the place". Under assorted management changes during the 1990s WNEW-FM lost its way, and in 1998 Muni ended up as a one-hour noontime classic rock personality at WAXQ "Q104.3", where he worked until suffering a stroke in early 2004. Muni's low, gravelly voice was instantly recognizable and often lampooned, both by other disc jockeys and by impressionists such as on Imus in the Morning. He was often known to his listeners by the nicknames "Scottso" or "The Professor", the latter to emphasize both his rock expertise and his age difference with most of his audience. While he sometimes spoke in roundabout phrases and succumbed to progressive rock radio clichés such as "That was a tasty cut from ...", he also conveyed on the air and in his professional relationships a gruff immediacy that was a by-product of both his time in the Marines and his earlier Top 40 skills. A bizarre exchange occurred in 1975 when a hostage-holding bank robber called Muni on the air and engaged him in a long, often nonsensical conversation; the two peppered their post-hippie speech with discussions of Bob Dylan music and requests to hear the Grateful Dead. Muni specialized in playing records from up-and-coming, or sometimes just-plain-obscure, acts from the United Kingdom on his weekly Friday "Things from England" segment. He also hosted the syndicated radio programs Ticket to Ride and Scott Muni's World of Rock. Muni often referred to "we interviewed so and so," making reference to himself and either "Black" Earl Douglas or another producer. Indeed, Muni was friendly with many of the musicians whom he played, and they would often stop by the studio to visit on-air. He played poker in the studio with the Grateful Dead, and he would let Emerson, Lake & Palmer browse the station's huge record library and put on whatever they liked. An oft-related story tells that he was interviewing Jimmy Page when the guitarist suddenly passed out from the aftereffects of the Led Zeppelin lifestyle. Muni calmly put on a record, revived Page, and completed the interview on the studio floor. Muni was close to John Lennon and his family, and after Lennon's murder he vowed to always open his show with a Lennon or Beatles record, a pledge that he kept for the balance of his career. In addition to radio broadcasting, Muni also did voice-over work for radio and television; the most known were a commercial for Rolaids antacid ("How do you spell relief?") and promos for Monday Night Football. His voice is also heard giving the introduction on the 1971 live album Chicago at Carnegie Hall.
Born Donald Allen Muñoz (May 10, 1930 - September 28, 2004)